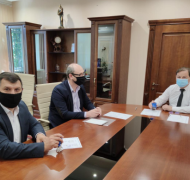 Institute of Power Engineering has signed a Memorandum of Cooperation with SA RED Nord.
La 4 iunie 2020 a fost semnat Memorandum de colaborare dintre Institutul de Energetică și SA RED Nord.
Părțile au convenit să colaboreze pe bază de parteneriat activ pe multiple planuri în domeniul energetic ca: generarea energiei electrice produse din surse regenerabile de energie, eficientizarea energetică în rețelele de joasă și medie tensiune, precum și alte domenii de interes comun. Părțile sau arătat deschise la colaborare, subliniind că sfera de cercetare în domeniul energetic reprezintă un interes atât la nivel regional, cât și la nivel național.